A Peek into the Restoration Shop
This 1953 35′ Chris Craft Commander came into our shop in very well preserved original condition, but everything needed updating. Items to be updated in the head included: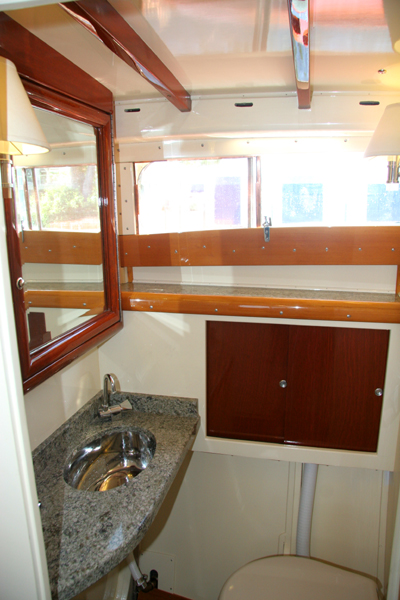 New stainless steel sink basin
New Cambria Quartz counter top
New Vacu-Flush toilet
New handcrafted mahogany medicine cabinet
New mahogany sliding doors for cubby
New DC light fixtures
New towel bar
New faucet
New linoleum flooring
The medicine cabinet was really the finishing touch. We used stainless steel shelving, which cannot be damaged when trailering down bumpy highways. The latch is a push-button locking mechanism. It took quite a bit of shopping to find that in chrome!
The existing toilet flushed straight through to the lake, so that had to be upgraded to be legal. When shopping for a new head you will find a range of prices from a few hundred to several thousand dollars. Our customer settled on a porceline model rather than the plastic type the you will find in fiberglass boats. The Vacu-Flush system is state-of-the art, and is not subject to failures, which as many of you know, can ruin an otherwise nice day on the lake.
Most of the light fixtures offered for boat cabin interiors are low quality and rather boring. The only thing they have going for them is the on-off switch. Obviously you don't want a wall switch in your classic boat cabin, so you are either stuck with what they offer, or you can do as we did and modify any nice looking wall-mounted light fixture. We purchased small chrome wall sconces and installed toggle switches. Viola! You don't even need to buy DC fixtures, as there is no difference between an AC and a DC light fixture, other than the bulb. We also installed some indirect lighting in the form of red and white rope lights. There is a switch at the helm for Red On, White On, Off. The red is best for preserving the captain's night vision, but white is fine when you are tied to the dock or anchored. We concealed the rope lighting in appropriate niches all around the cabin and also out on the back deck. You would be surprised to discover how many little channels and overhangs there are just begging for some indirect lighting.
There were very few choices available in high quality stainless steel sinks. We were very lucky to find an oval sink that was just the right size for the dimensions of the countertop.
The quartz countertop was shaped to match the unusual wall angles, and it really looks like it belongs there.
Battleship linoleum is available in a variety of colors. We buy ours from Tony Lauria. See his site at battleshiplinoleum.com. It is rather stiff and comes in a roll. You can use brown paper to make a pattern of your floor and trace that onto the back of the linoleum. Be carefull about the adhesive you use. Someday it will have to be lifted up, so don't use an adhesive that is so strong the the material is ruined if you pull it up. You can hold it down with stainless steel hatch trim around bilge access hatches, and use mahogany trim along the perimeter, if necessary.
This boat received far more than just a cosmetic restoration. We also replaced the roof, all of the upholstery and the v-bunk mattresses. We installed autopilot, a generator, stereo, ship-to-shore radio, a hailing system, satellite TV, an iPod plug-in and GPS. All of the paint and varnish was stripped down to bare wood, both interior and exterior. The cabin windows received new copper screens and a little bit of bad wood was replaced on some of the windows.
Click here to see more pictures of this classic cruiser restoration .