1941 24' Gar Wood Twin Engine Overniter Sedan

Get ready to fall in love with the last 1941 24' GarWood Twin Engine Overniter. Just add gas and get ready to cruise with restored instruments, rechromed hardware and new leather upholstery. Inside the cuddy you will discover a roomy v-berth, mahogany chest of drawers with fold-out secretary top, and an ice box that is cooled by ice added from the helm area. The vintage head is just for show and is not connected to the lake. The name "Teddy" commemorates Gar Wood's tradition of taking teddy bears along when racing his boats. New bottom. Custom-built tandem trailer. Rebuilt Chrysler 6-cylinder twin engines. A fabulous first wooden boat or worthy addition to any collection. Inventory number 23n. $139,900. Call Mitch: 952-471-3300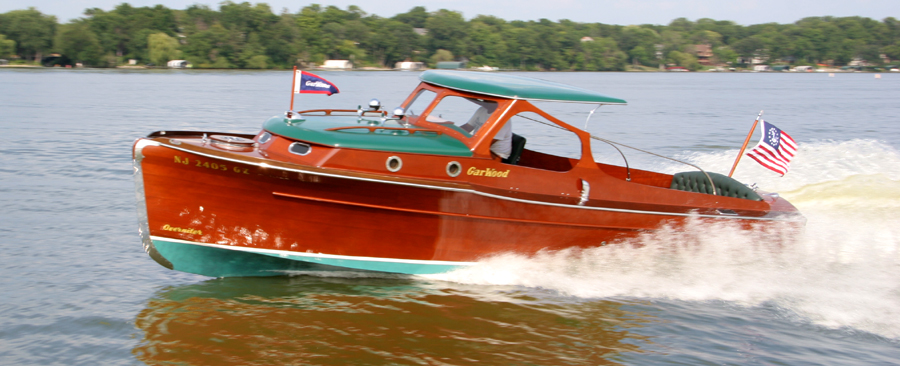 Photos taken August 2014 on Lake Minnetonka, Mn., Mitch LaPointe at the helm.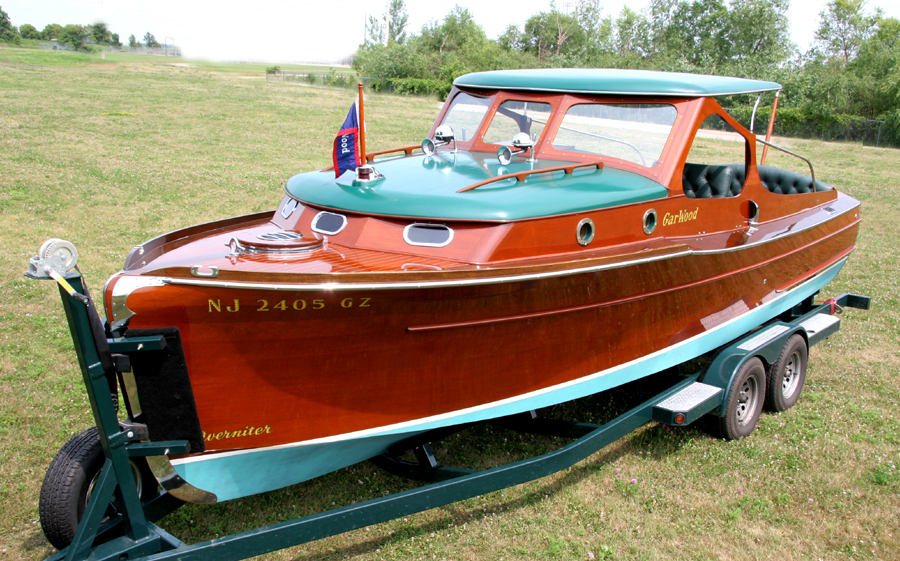 Note the glass deck hatch and many port holes which light the cabin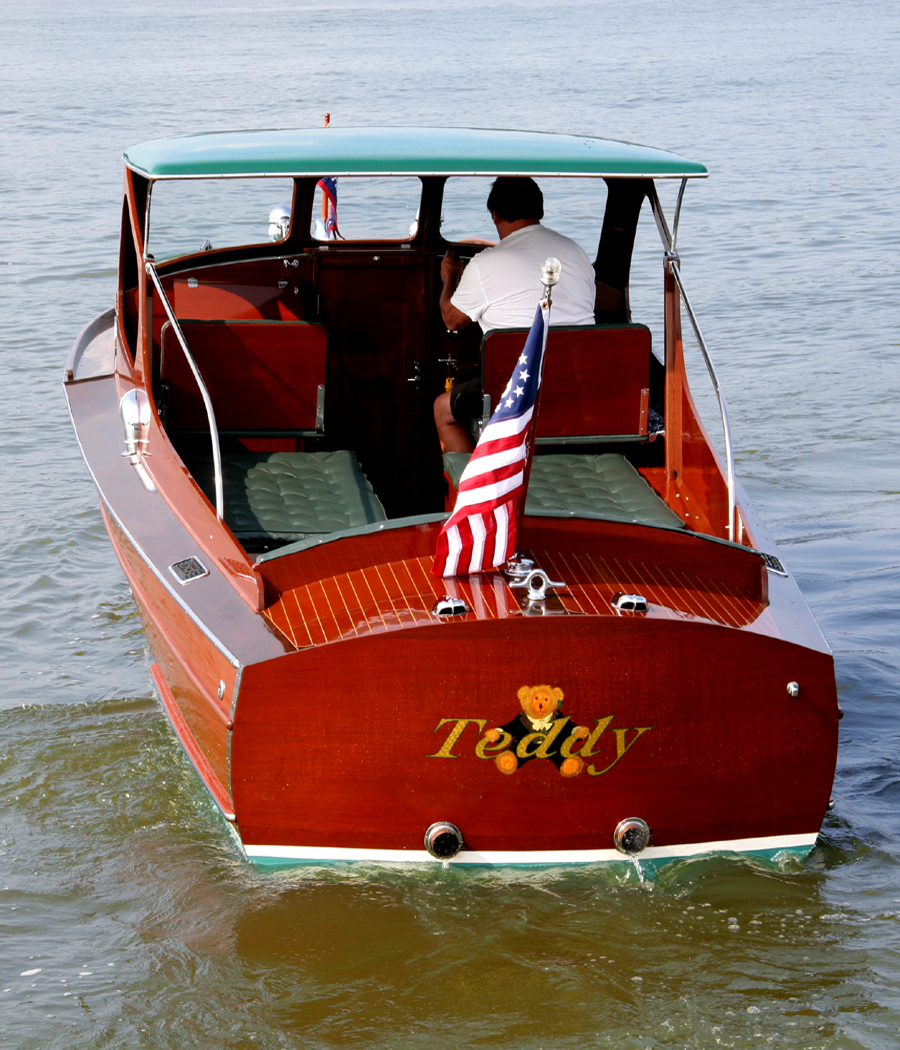 Teddy is named after Gar Wood's famous pair of teddy bears, Bruin and Teddy. See the story below.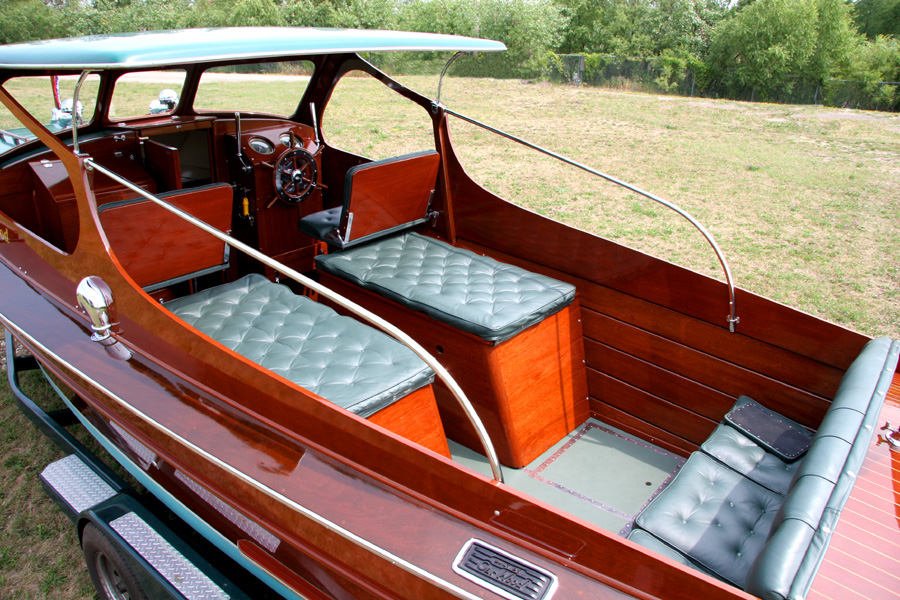 Green linoluem flooring, button tufted leather upholstery, leather-wrapped step pad to protect your seats.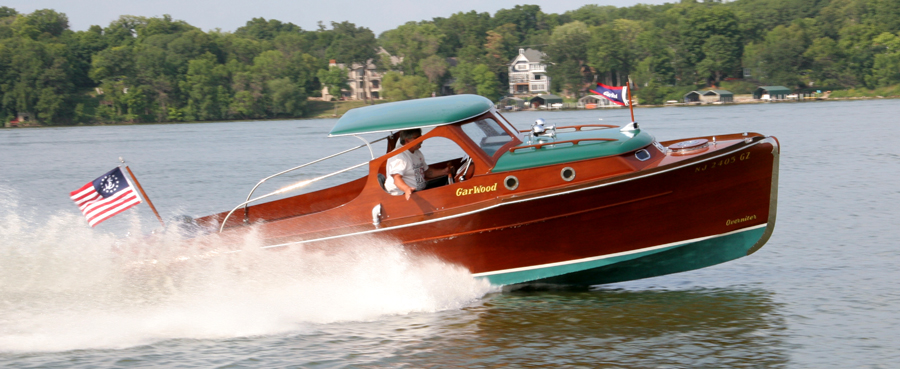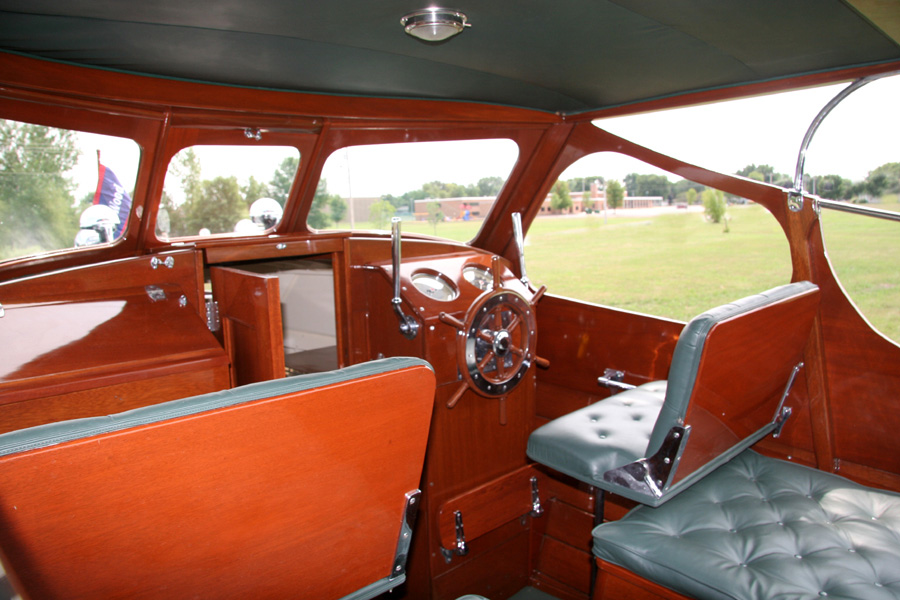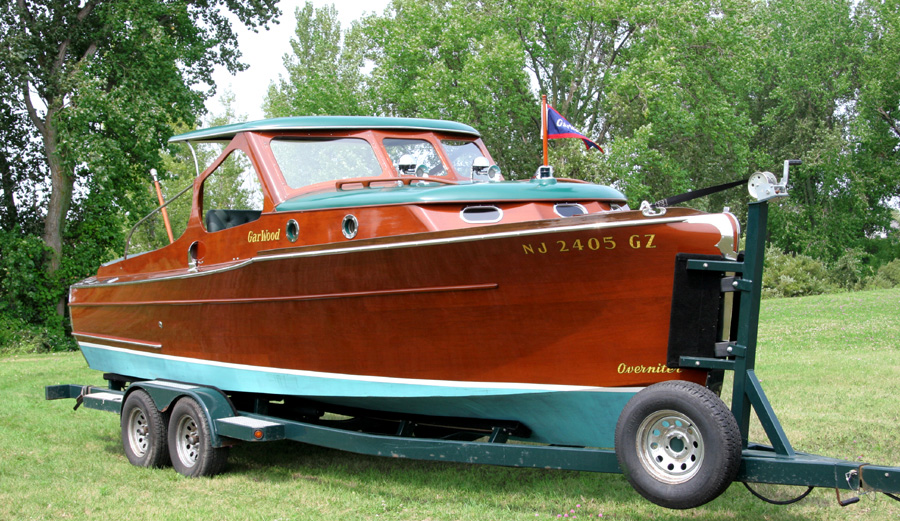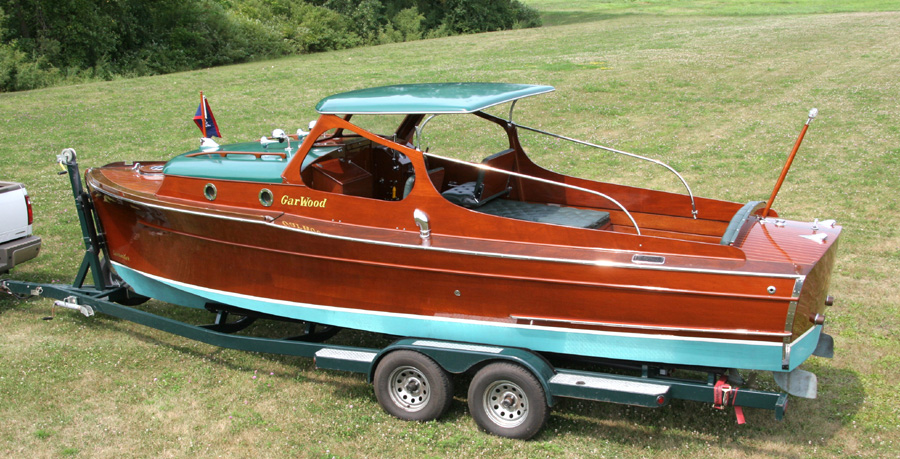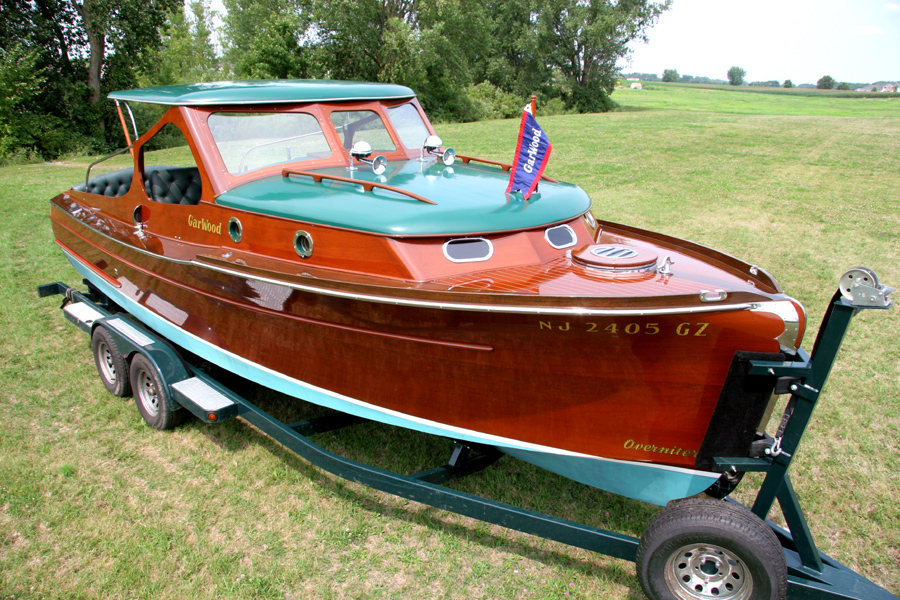 Note the nice big bow stop and spare tire on the custom trailer.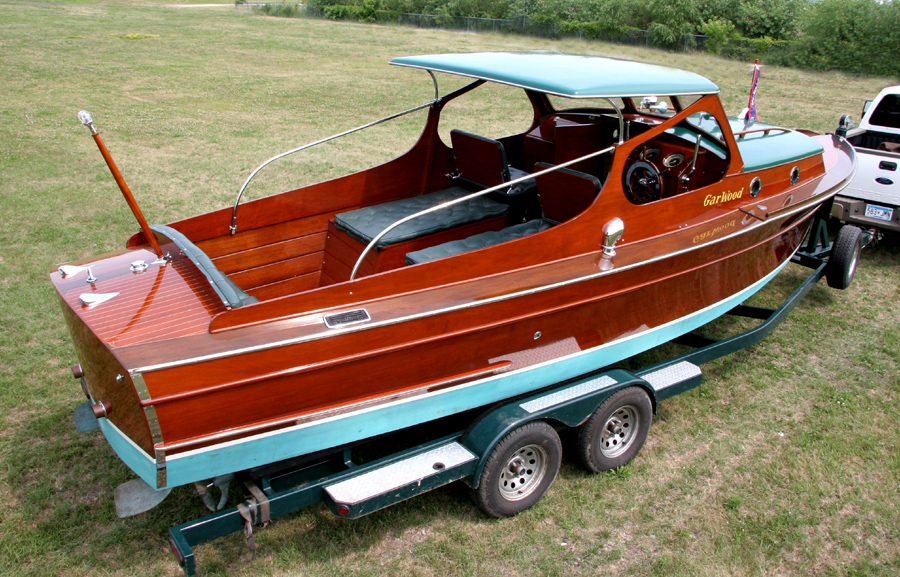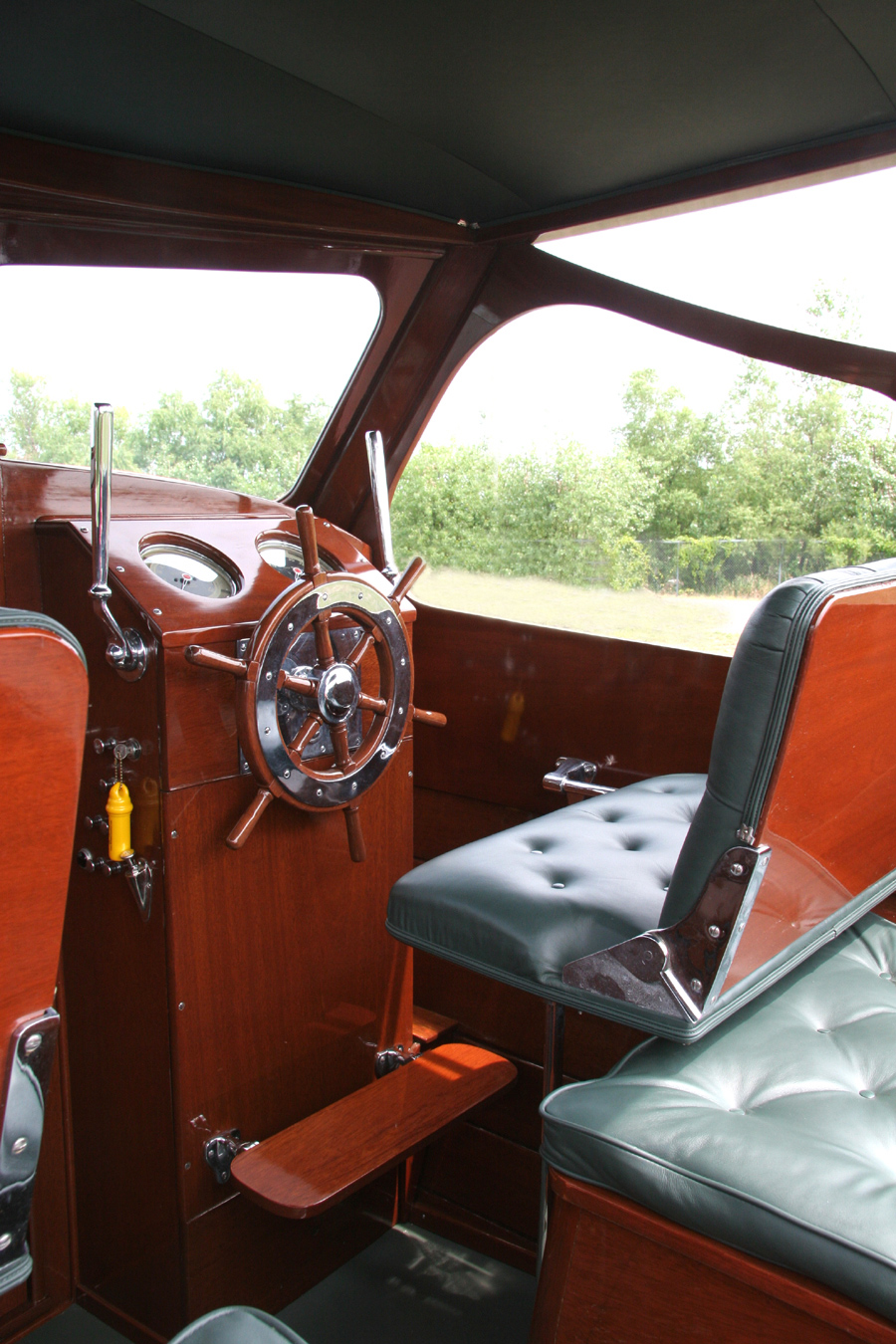 Both the captain's seat and first mate's seat are adjustable forward and back.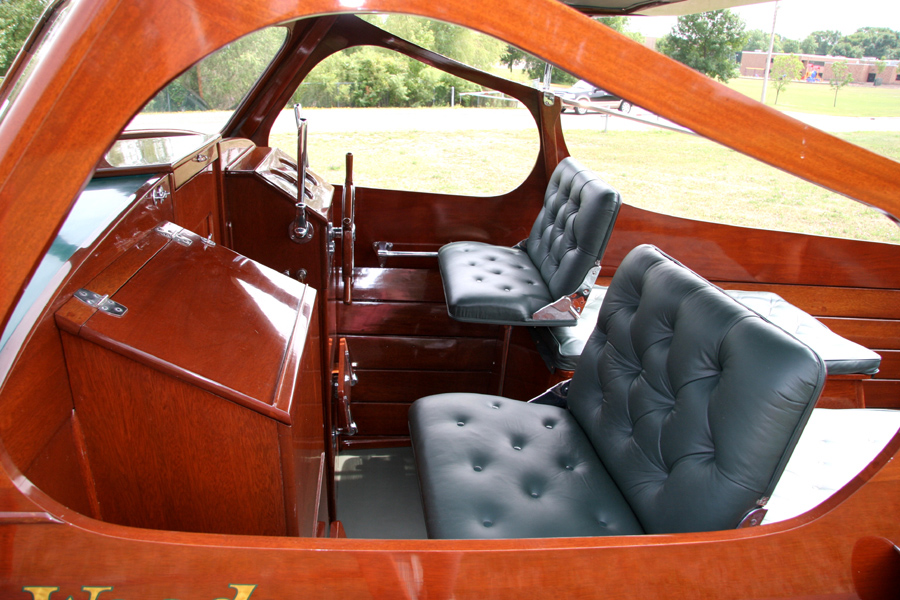 The chart table lifts up to reveal an ice box.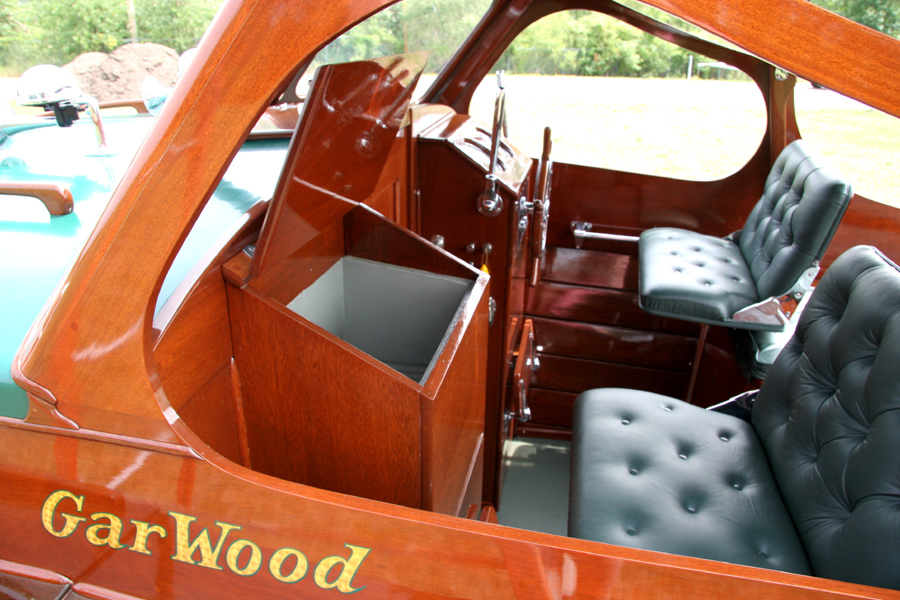 Chilled air from the ice box drifts down to the convenient ice box in the cuddy cabin.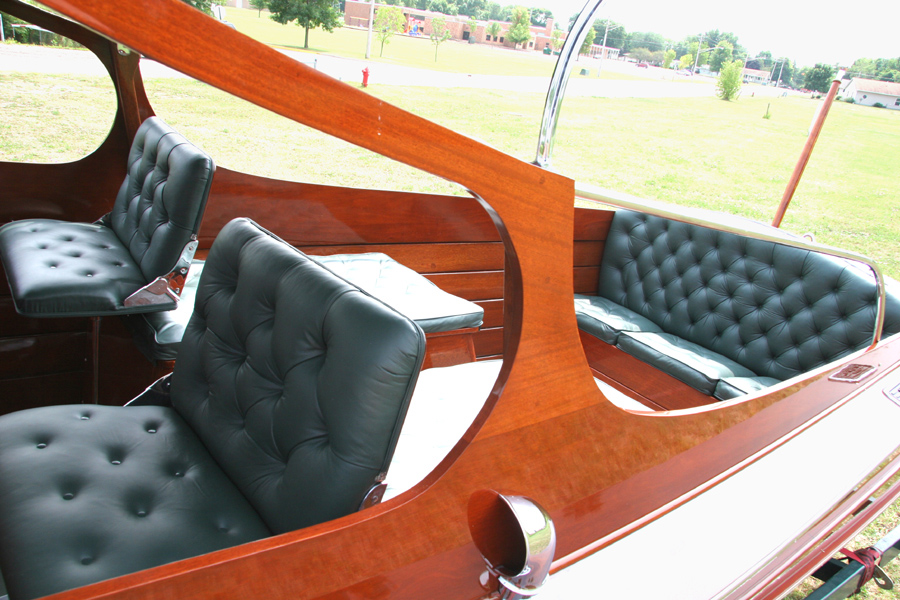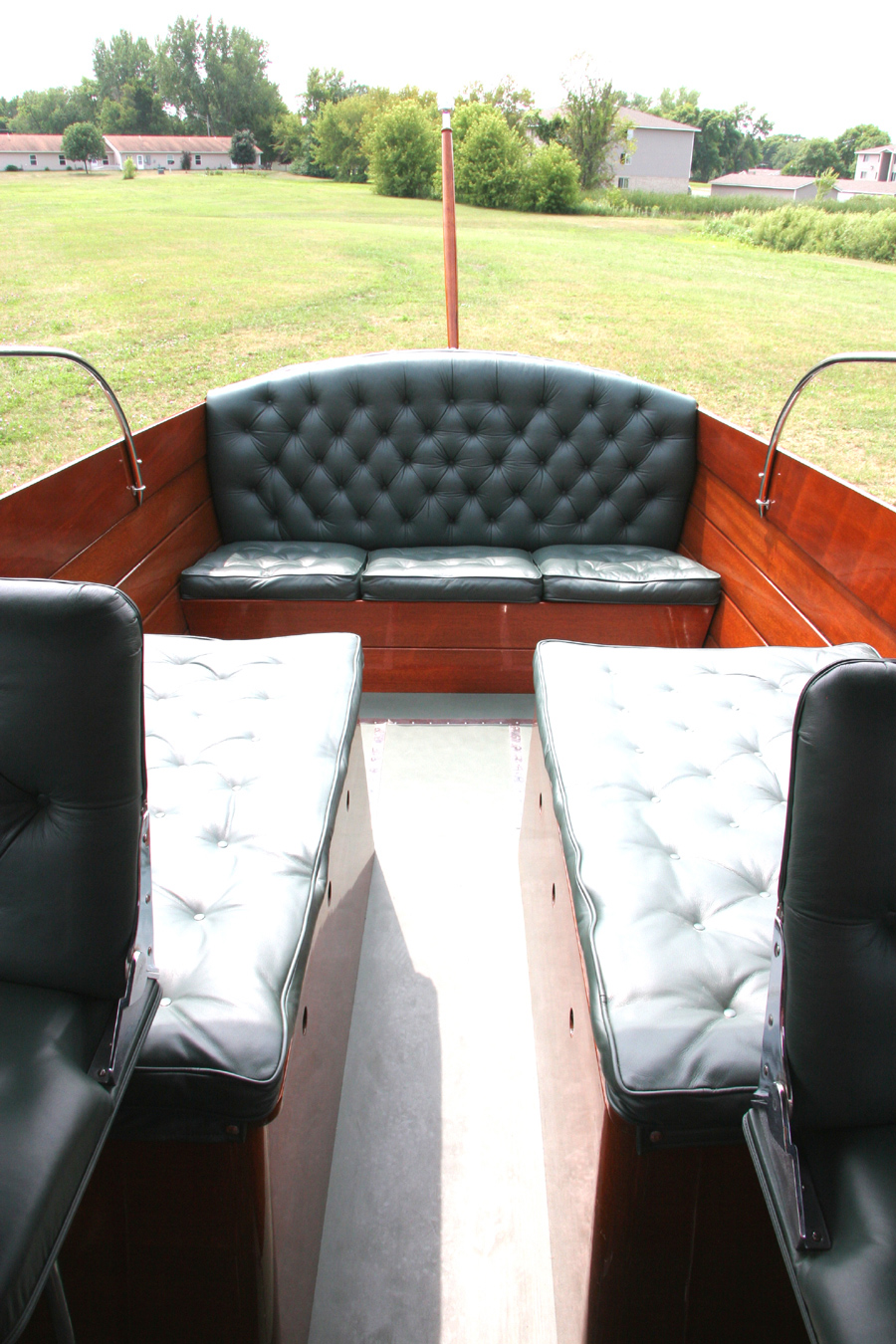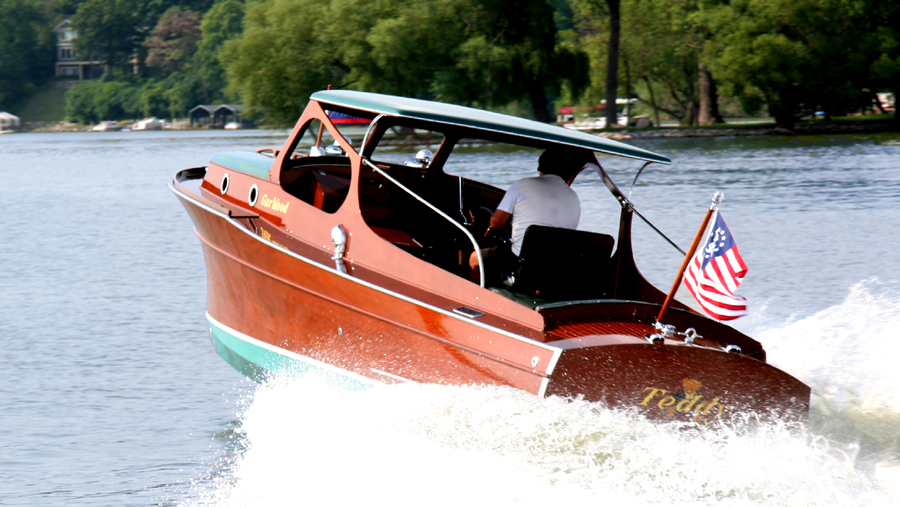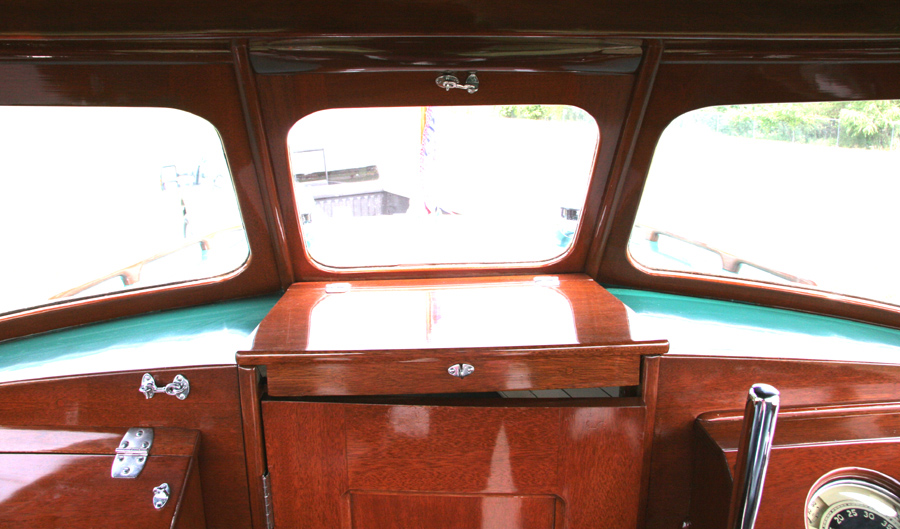 Green enamel dash matches the roof.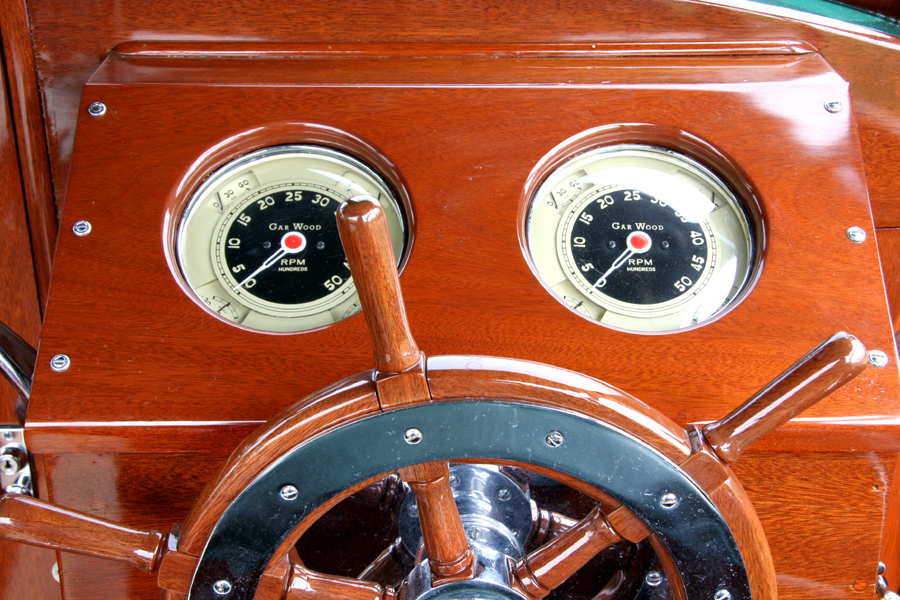 Restored gauges and steering wheel.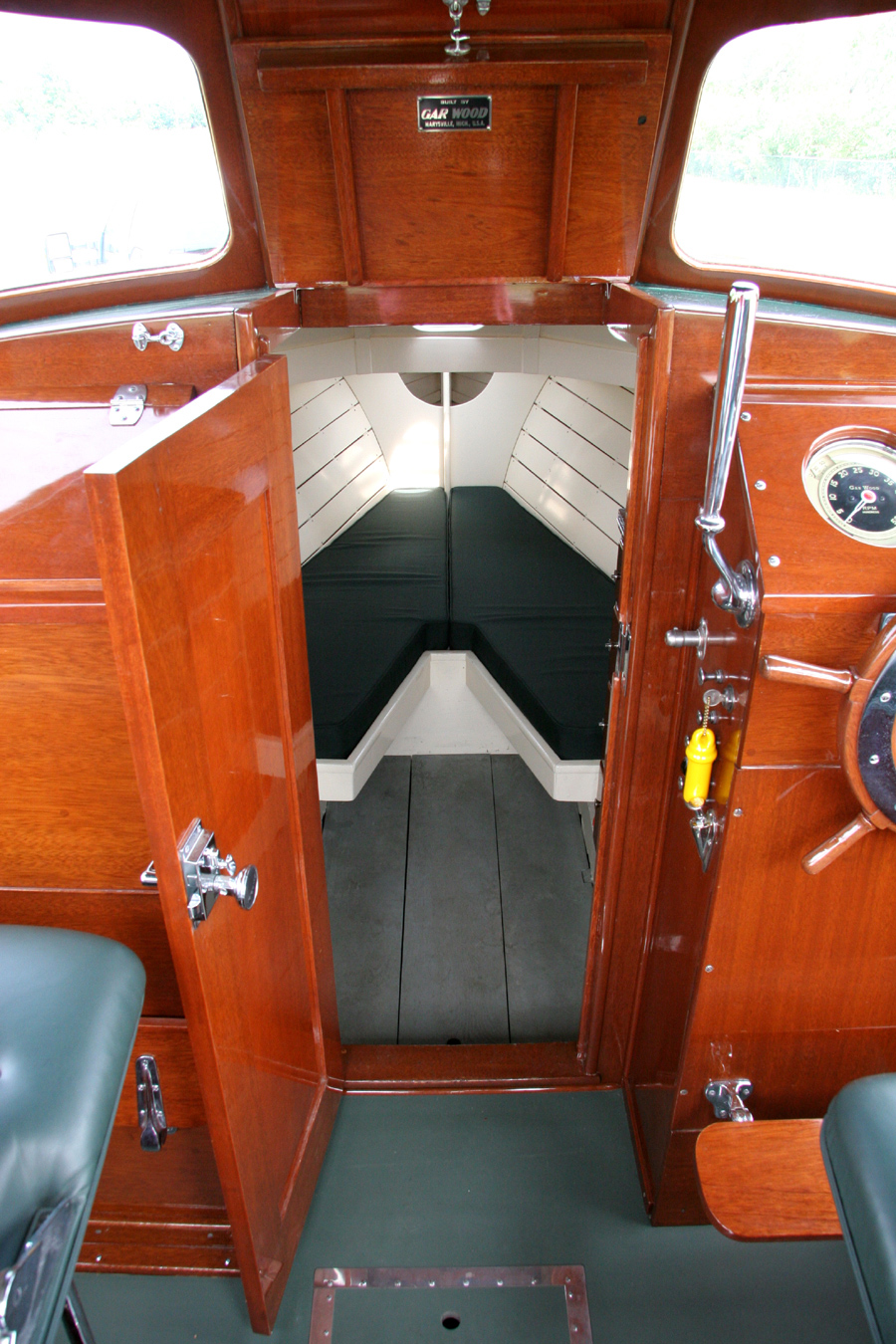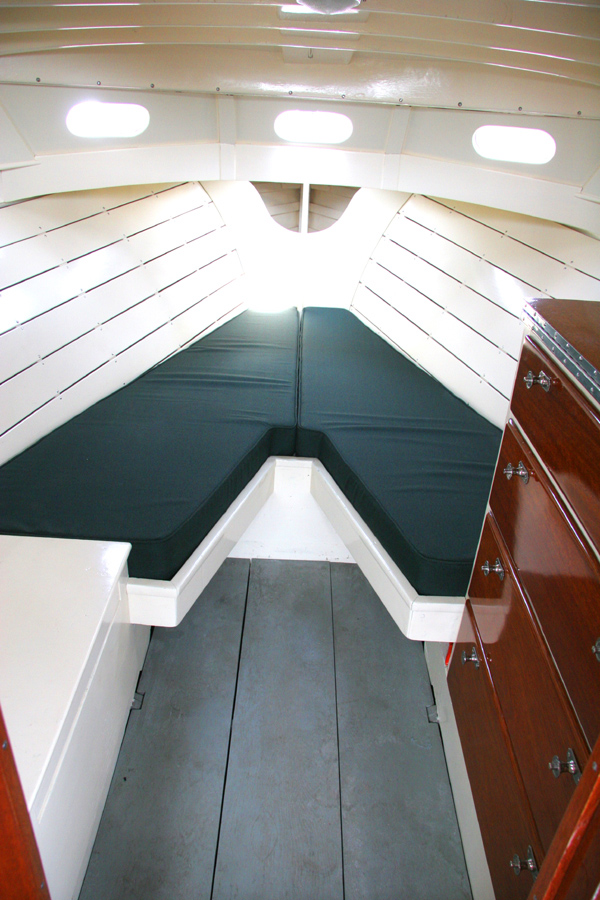 Cuddy is brightly lit by a number of port holes and the deck hatch.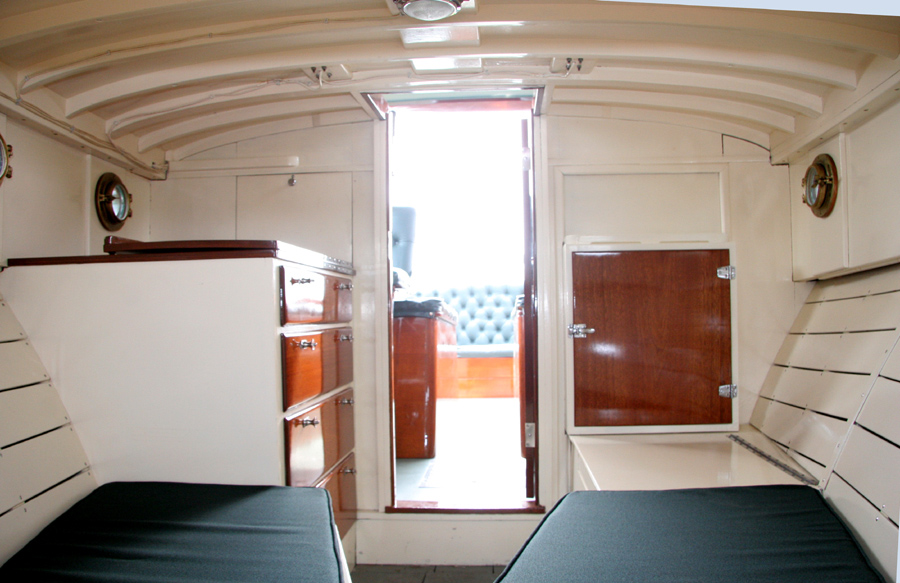 Note the ice box on the right, which is cooled by ice placed in the ice chest at the helm.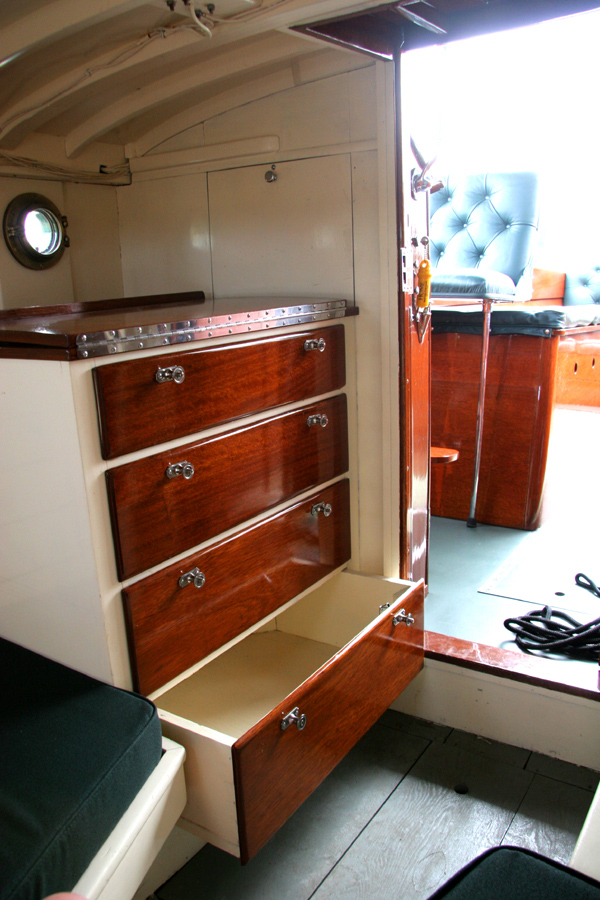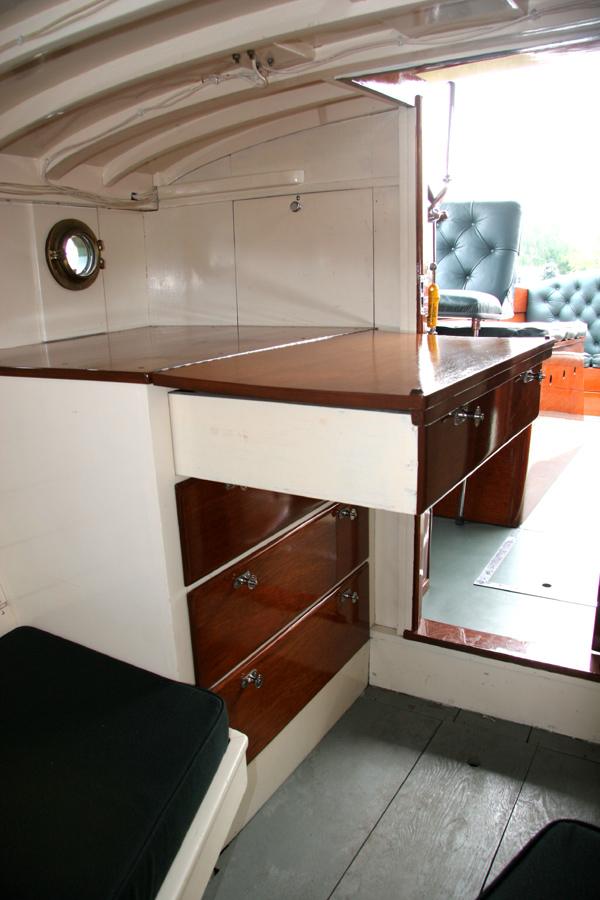 The secretary desk top folds forward.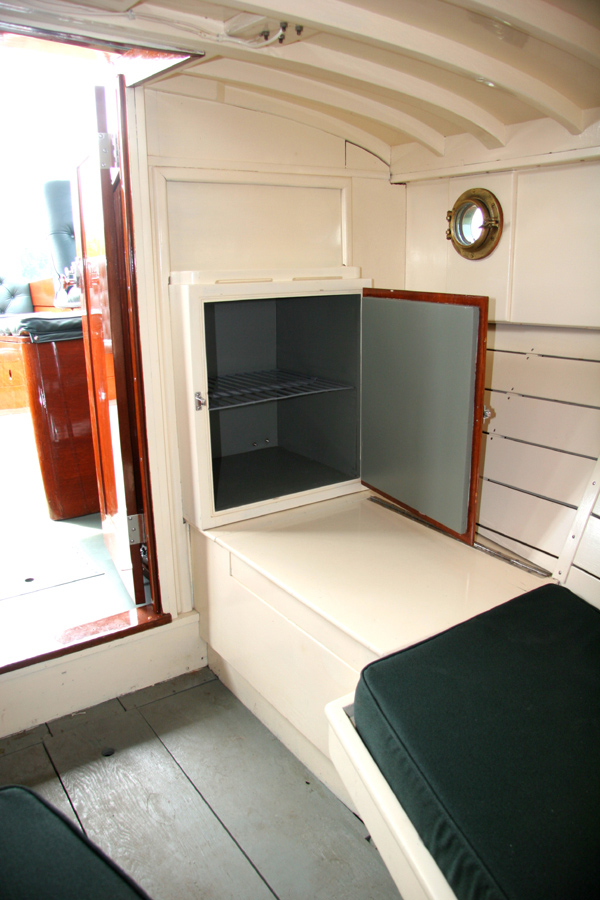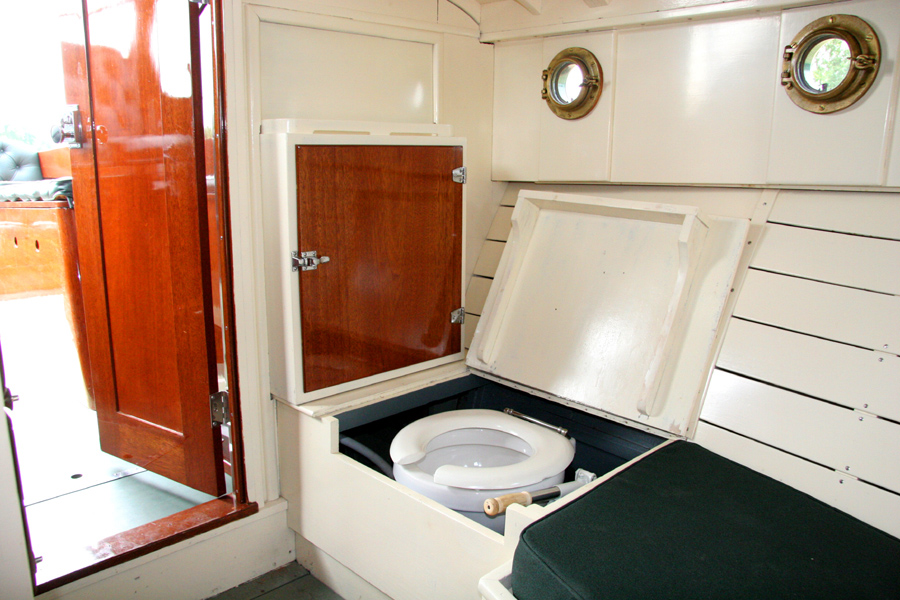 The vintage head is not hooked up to the the boat exterior.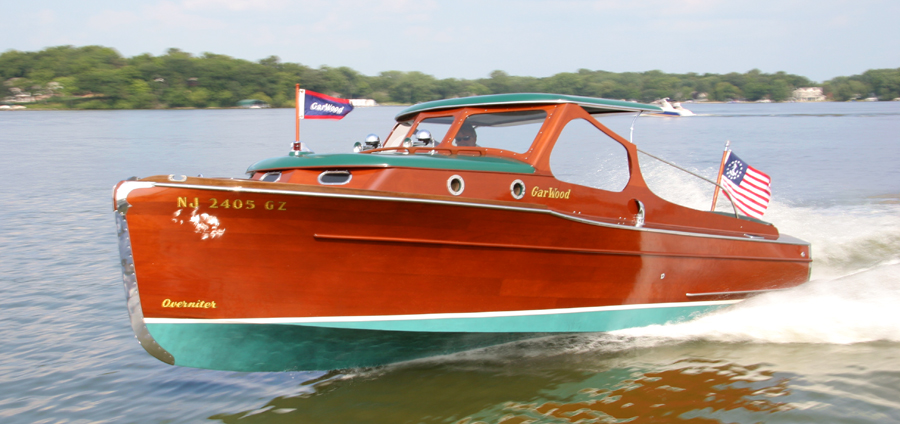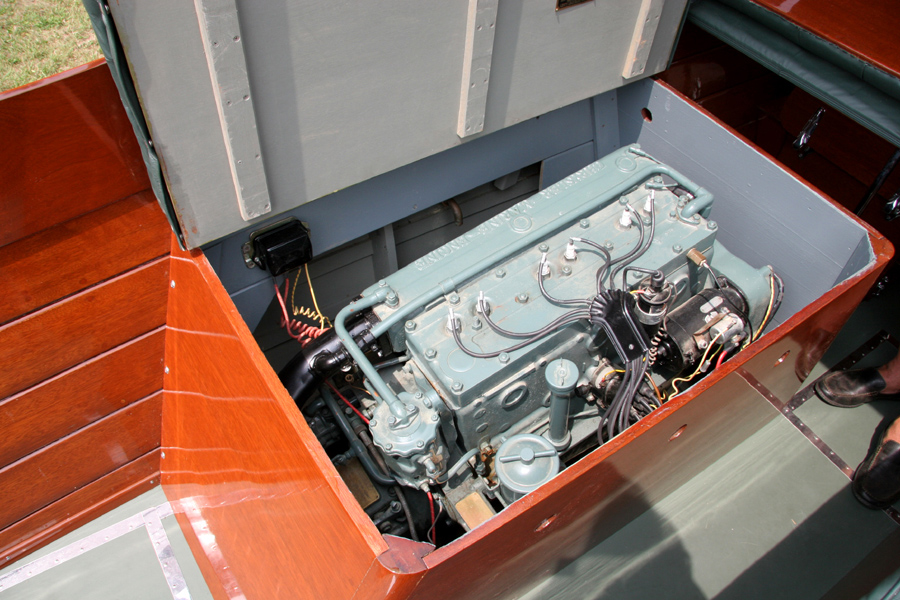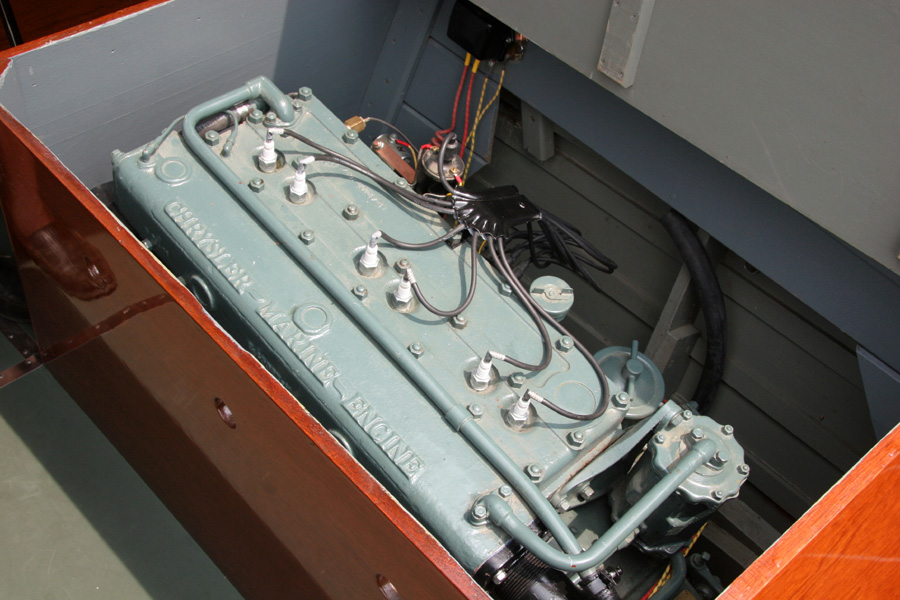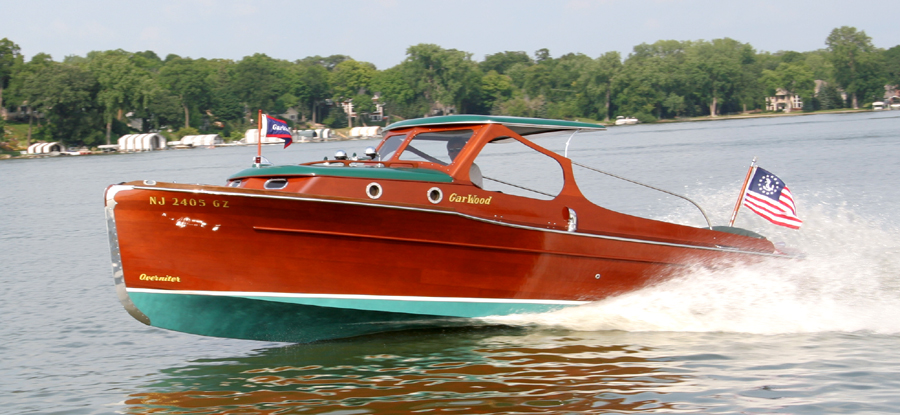 Mitch's Ford F250 did not have any trouble pulling the boat. He got a lot of looks with this one.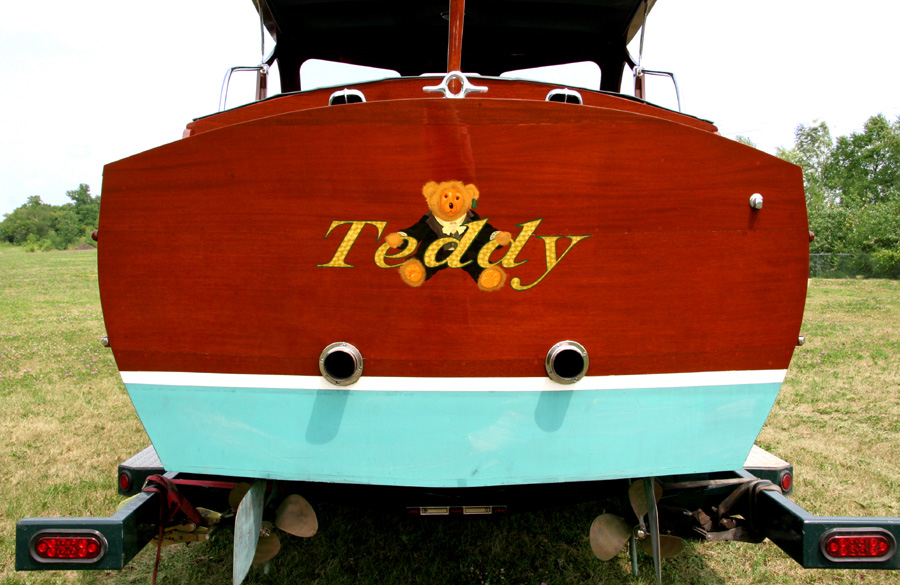 Teddy is named after Gar Wood's famous pair of teddy bears, Bruin and Teddy.

He stole a bear from his wife and put it in his first race boat "Little Leading Lady, in which he won every race he entered." When Mrs. Wood bought another bear, he stole that too. She eventually found her missing bears in "Miss Detroit II," and kindly made them life jackets and bathing caps. He tied the bears to his engines for luck and would never venture out in one of his boats without them. The only race he ever lost was the one in which his son Gar, Jr. gave one of the bears to his opponent. Once someone told Wood that, "No gentleman would ever ride in one of those boats," which prompted him to dress in full formal attire for his next race, which he won, and the teddy bears wore tuxedos too from then on.
Hurry and sign up

for our classic boats email alert, and be the

first

to find out about new boat listings on our site. We will send you a picture along with the description and price of each new boat as soon as it is listed.
LaPointe's Classic Boat & Motor, Inc.
OFFICE: No Boats Here!)
Spring Park, MN. 55384 USA
ANTIQUE BOAT SHOWROOM:
Please call for directions to the boat showroom.
Don't just drive to the office, there are no boats here!
The showroom is 45 minutes west of our office.

PHONE: 952-471-3300
10:00 am - 5:00 pm CST