LaPointe's Classic Boat & Motor

Classic Boat Restoration Shop
Located Near Minneapolis, Minn.
952-471-3300
Complete Restoration Services
Our expert team stands ready to manage all aspects of your antique and classic wooden boat restoration and maintenance needs. We can accomodate classic boats up to 42 feet in length and 14 feet in height. Whether you are contemplating a keel-up restoration or just a few coats of varnish, we will be happy to discuss your project.
Structural Restoration
60 - 80 year old antique boats often need important structural repairs or replacement before proceeding to cosmetic restoration. Our team will spend several hours going over your boat, and Mitch will give you a written list of findings and recommendations.
Cosmetic Restoration
This is the fun part! Our customers are always excited to see shiny new varnish, sparkling new chrome, restored gauges and new leather or vinyl upholstery.
Mechanical & Electrical Systems
Not good with wrenches? Let us do it for you! We are experts with engine rebuilding and installation, wiring, 12 volt upgrades, plumbing, sound systems, underwater gear, air conditioning and electronic upgrades.


We can accomodate your boat up to 14 ft in height and 42 ft in length.


Pictured above is a 35' Chris-Craft Commander that got a new roof, new decks, upholstery, dinette, sofa, galley, v-berth, head and all new mechanical and electrical systems.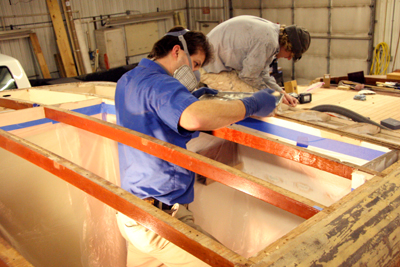 Above: Getting ready for the new cabin roof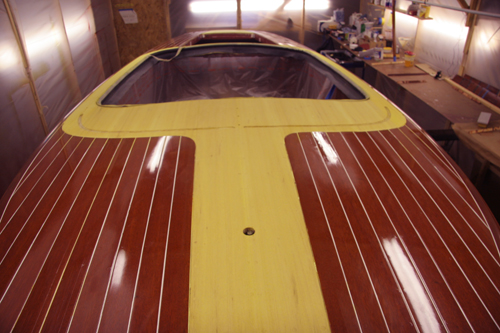 Above: 1956 19' Capri "Muskoka" in the varnish booth
The owner, a NY resident, bought a 19' Capri from our inventory and had us do some upgrades. We installed a rebuilt 350 V8 engine with heat exchangers for salt water use.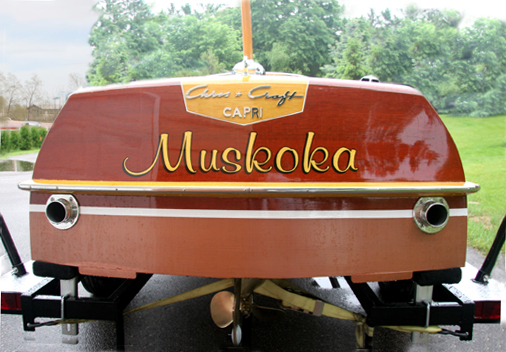 Above: "Muskoka" is ready to travel to her new owner in NY.
Looking good with her new gold leaf name and fresh bottom paint. The wood wedges on the bottom serve to keep the bow from porpoising at full throttle.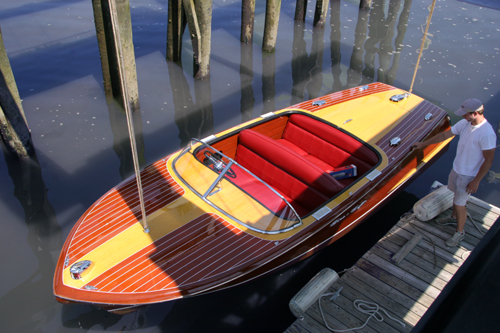 Above: "Muskoka" heads out on her maiden voyage off Long Island, NY.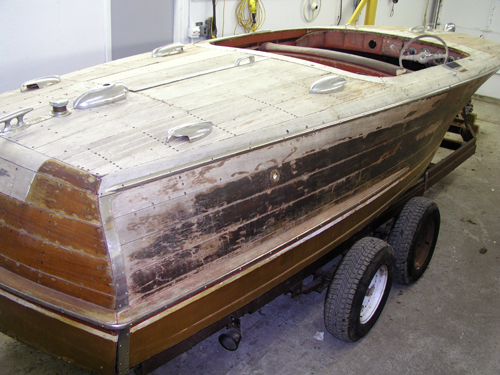 Above: "Blondie," a 1948 20' Chris-Craft Custom Runabout
Blondie has not been in the water since 1969. She will be getting a new bottom, sides, decks, upholstery, wiring, instrument restoration, chroming, steering wheel restoration and a better trailer. She still has her original factory finish, which is wearing a bit thin.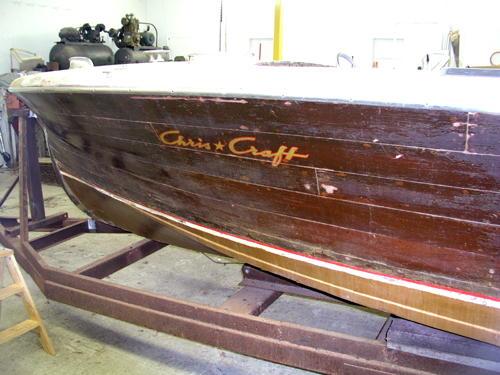 The original Chris*Craft hand-painted logos are still on the sides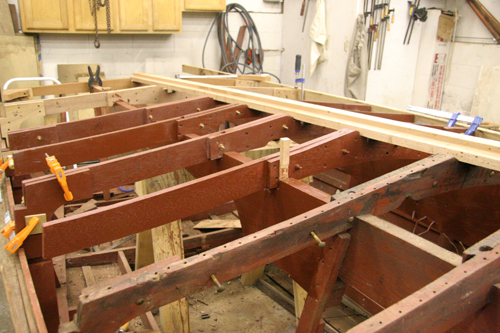 Checking the fit of Blondie's new keel.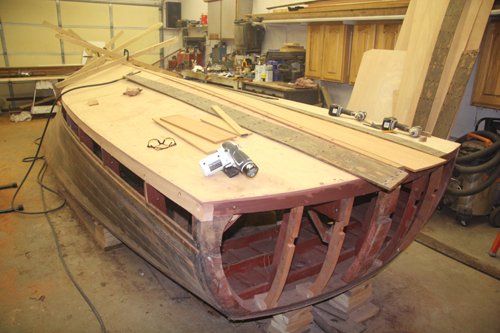 New BS1088 plywood inner hull is the first step for a "5200" bottom.

The original Chris-Craft bottoms were two layers: diagonal planking for the inner layer and lengthwise planking for the outer. Planking requires an expansion space, so planked bottoms have to be soaked before use. Plywood does not require an expansion space, therefore boats with 5200 bottoms can be dry launched. The name "5200" comes from the 3M caulk used to glue the two layers together.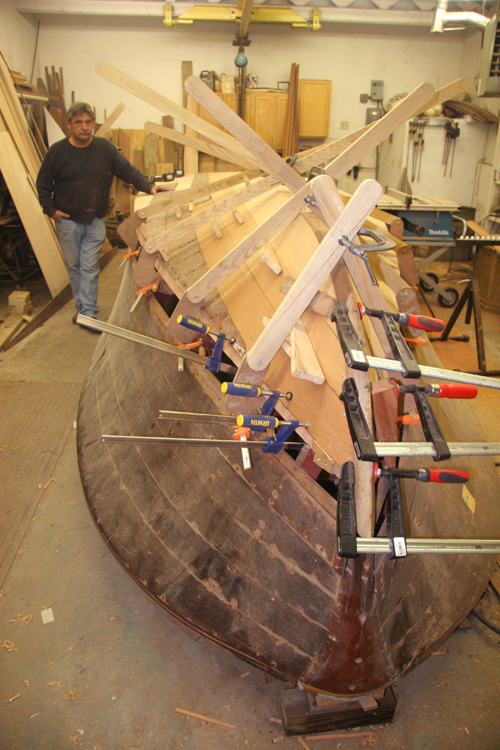 Fitting port bottom planks.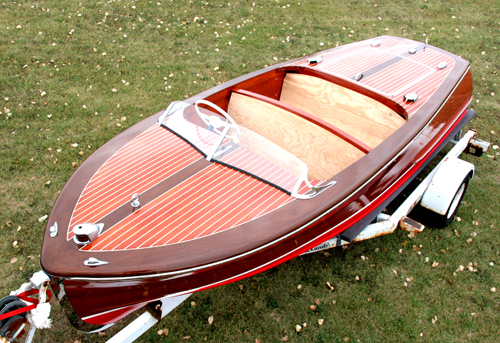 1948 17' Chris Craft Deluxe Runabout

All she needs is new upholstery, wiring and a lot of varnish. See below.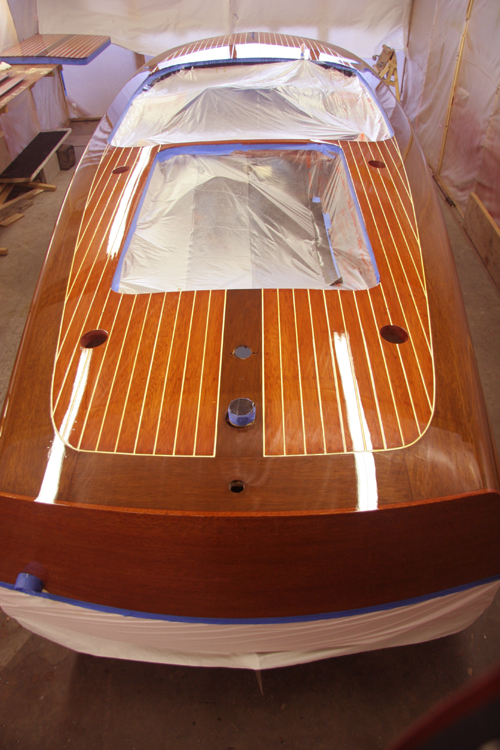 Mmmmm, that fresh varnish smells good!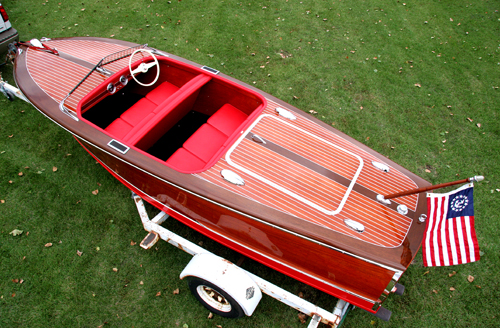 All done! The camera likes her!