Sell Your Classic Wooden Boat or Engine
We Make it Easy
Call and tell us what you have, and if it fits our program we will give you a dedicated email address where you can send your pictures.
After we receive the pictures, Mitch will discuss the boat further with you.

If you and Mitch make a deal, he will pick up your boat ASAP and bring a check with him.


What We Buy


Any size inboard classic wooden speedboat, in any condition.

What We Don't Buy
We generally avoid buying cabin cruisers (boats with bunks, gallies and heads).
We also tend to avoid the following: plywood boats, home-made boats, fiberglass boats, canoes, rowboats and boats from the 1970s or newer.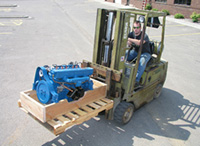 We Buy Engines

Call us about selling your Chris-Craft Hercules 6-cylinder engine or vintage V8 engine. Mitch will pick it up at your location while he is out on a boat delivery trip. He gets to all parts of the country and can fit about 6 motors in his truck at a time.


952-471-3300
Monday - Friday

10 am - 6 pm Central Time
LaPointe's Classic Boat & Motor, Inc.
3824 Sunset Drive, Spring Park, Minnesota 55384 USA