Scrapbook
Our Friends and Customers

Get Your Picture in the Scrapbook!
Join the Email Alerts (see sign-up box below), and reply to the welcome letter with your picture and a few words about your boat. If you are already receiving the alerts, just reply to any one of them.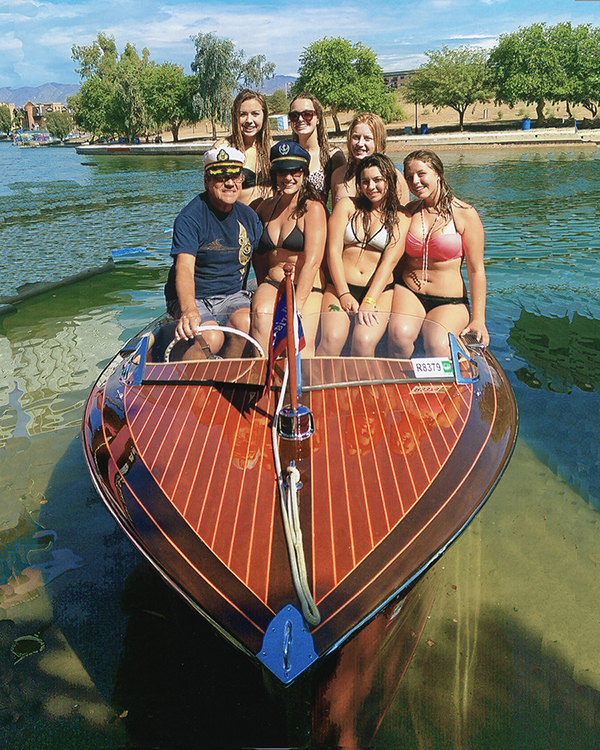 Ed Grove really gets around in his new 1940 17' Chris-Craft Barrel-Back from Mitch. This past summer he has already been on Lake Havasu, Big Bear Lake and several lakes in Minnesota. When he stopped in to give us the picture above, I expected to hear the names of all the family members in the boat. Nope... Turns out Ed just met these young ladies. The caption he gave me for the

picture is:



"Do not buy a Chris-Craft Barrel-Back Boat unless you can tolerate the attention."
-Ed Grove
Lake Havasu City, AZ., October 17, 2015

I think there is more of a story here, so Ed says he will email me the details. Stay tuned.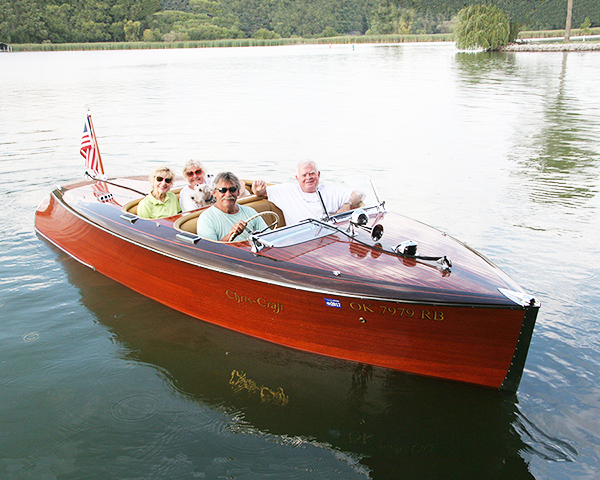 Buddy and Sheri out with Mitch for their first ride in their new old 1940 19' Chris-Craft Barrel-Back. Sheri is in the back, holding boat pooch "Cedric." Her sister Marianne is on the left. They had a great time visiting Minnesota and took 1st place in their class at the ACBS Bob Speltz Land-O-Lakes Rendezvous.

Gino trying out his 20' Chris-Craft Riviera at our place on Lake Minnetonka a few days before the ACBS Land-O-Lakes Rendezvous at Lord Fletcher's restaurant. We enjoyed getting to know Gino for a few days while he was here to see his boat and attend the show.
Gino Says: "Down here, nobody has ever seen one of these. People are stopping by the house because they can see it in my carport. This summer I expect it will get a lot of attention on the lake."
-Gino DuBay, Douglas Lake, TN.

Daryl and Shelley pulling into our dock for a visit with their new 1950 18' Riviera. But don't call it Daryl's boat! Shelly was the one who called and bought the boat. Yup, girls like them too.

Quality made trailers feature a prop cage, adjustable bunks, a carpeted bow stop, guide-ons, diamond-patterned step plates, torsion axles and tongue jacks. Available with or without surge brakes. See product detail page for more information.