CLASSIC BOATS FOR SALE & REBUILT ENGINES
Specializing in Classic Chris-Craft Boats
Serving the antique boat community for 30 years
USA - CANADA - EUROPE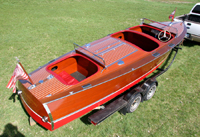 Welcome to Our Virtual Showroom!
We hope you will enjoy browsing the pictures of our classic boats for sale . Here you will encounter exciting models by Chris Craft, Hacker Craft, GarWood, Riva, Ventnor, Century and Stan Craft. You will no doubt notice that we no longer delete the "sold" boats, as they come in handy as a ready reference for hull style, instruments, deck hardware and all those details that go into identifying a classic boat or obtaining correct parts. The newer boats are always near the top of the list for your convenience and the "sold" boats are clearly marked and moved further down.
Who Owns the Boats?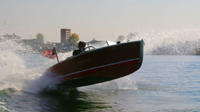 We own most of the boats we offer for sale, though we sometimes offer brokerage boats owned by our customers and friends.
Financing
Most of our boats can be financed by a low interest credit union loan. Depending on which boat you select from our collection, it may even be possible to finance varnish, bottom paint and a new canvas cover.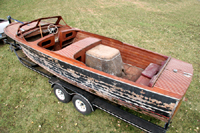 Classic Boat Restoration Shop

We offer complete classic boat restoration services including woodwork, refinishing, engine rebuilding, mechanical and electrical work. Check out the 25 ft Chris Craft Sportsman project boat at the left... One of the most desirable of the large utility models. Call to find out what would be involved with restoration.
Planning Your Visit to Minneapolis
Please call ahead! Mitch travels a lot and has a serious golf addiction, so let us know when you are coming and we will be ready to greet you! Our classic boat warehouse and restoration shop is located just 45 minutes west of the Minneapolis / St. Paul International Airport in the town of Glencoe. You will enjoy the pleasant drive through farm country on paved highway all the way.
Call Anytime
Our antique boats often sell before we have a chance to photograph them and get them on the web site, so please feel free to call and find out what's in stock. We are here 9 am to 5 pm central time Mon-Fri, but you can usually catch us after hours and on weekends as well.
Email Alerts
We recommend you sign up for the antique and classic boat Email Alerts. Just type your email address into the box below. Each time we add a new boat to the web site, you will receive an email within minutes complete with a picture, description and price. Sometimes the really great boats will sell the same day they are listed, so the Email Alerts are a good way to stay in the loop.
FAQ
If you are contemplating your first classic wooden boat, you no doubt have lots of questions and we will be happy to answer. No question is too elementary, so give us a call and ask away! We will fill you
in on the finer points of storage, maintenance and usage.
952-471-3300
(10 am - 6 pm central time).


Runabout vs Utility
One of the first decisions you need to make is whether your needs are best met with a classic runabout or a utility model. Some folks are attracted to that sleek runabout look, while others gravitate to the family-friendly utilities, which are great for swimming and skiing. You will quickly discover that you can get more "stuff" in a utility, such as coolers, beach towels, swim toys, skiis and even the family dog.
You may also appreciate the fact that on average
, the utility models tend to cost a little less.

What about length?

First-time wood boaters sometimes go for the smallest boat they can find, assuming it will be easier to handle, but we generally
recommend buying the largest boat that will suit your purposes. You will notice a definate improvement in rough water performance for every added foot of length. Having said that, we must add that most inboard wooden boats offer a smoother ride than fiberglass boats of the same length.
What about price?

Since we own our classic boats, the price of each boat is relative to the others. The higher priced boats are more desirable due to features, looks, rarity and condition. You will notice that our boats are priced with a high degree of consistency, relative to model and condition. The older listings on the web site have somewhat lower prices due the fact that collectible boats have gained value over the years.

Other web sites may list boats for many different owners, and there you will see prices all over the board. This is because inexperienced sellers tend to look at each other's ads for pricing information.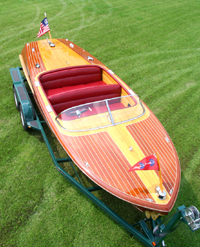 Antique Boat Maintenance Questions

How often do you have to varnish your boat? Well, that depends on how often you use it. Marine varnish has an ultra-violet absorber, but this chemical gets used up when it reacts with sunlight, so eventually you will need to apply several new coats of varnish. A good rule of thumb is that if you are using your boat every weekend during the summer months, you will need to add 2-3 coats of varnish every 3 years. Fresh bottom paint is rollered on a bit more often, perhaps every one to two years. Most people hire out the bottom paint job, as it requires lying on your back and wearing goggles. You will need to shelter the boat from direct sunlight when it is not in use.
Engines For Classic Boats
We have about 100 Chris Craft classic boat engines in stock, ready to rebuild and ship to your marina or mechanic. We will even take your old vintage engine on trade. We generally ship in 3 to 8 weeks, but order early just to be sure.We ship to the United States, Canada and Europe. We specialize in Chris Craft 6 cylinder Hercules engines and inboard V8 engines, including Chevy 283 V8s.
Selling Your Classic Boat
Call Mitch to sell your classic Chris Craft boat in any condition, he will pick it up anywhere in the continental USA, and pay you on the spot. In most cases, we prefer to buy your boat outright rather than consign it. You get paid right away and we can take our time getting it ready to sell.

Identify Your Wooden Chris Craft
Check out our Chris Craft Hull Numbers page to identify your Chris Craft antique boats by hull number, year manufactured, model name and length. Color photos included for identification purposes.

---
MAILING ADDRESS: (No Boats Here!)
LaPointe's Classic Boat & Motor, Inc.
Mitch LaPointe
3824 Sunset Drive, Spring Park, MN. 55384 USA
BOAT SHOWROOM:
Please call
for directions to the boat showroom.
Don't just drive to the office, there are no boats here!
The showroom is 45 minutes west of our office.

PHONE: 952-471-3300
(Mon - Fri 10 am - 6 pm CST)